Summer 2021 Was a Virtual Masterpiece 
Summer 2021 Was a Virtual Masterpiece 
"Thank you so much for such an amazing week and for making our first time camper feel included…the activities exceeded our expectations…" 
BRASS Camp and Camp Fantastic each faced a tough task in 2021: not only provide another engaging week of fun and community amid an ongoing pandemic, but make it fresh, original, and better than last year. 
Special Love's staff and volunteers rose to the occasion with new activities, reimagined camp classics, and enhanced evening programming for the 130 campers who registered. 

BRASS Camp blasted off for a space-themed adventure hosted by "Luna Spacey," our friendly astronaut guide, who welcomed us to the International Space Station and interceded on our behalf when aliens "borrowed" our campers for a trip to their home planet. The campers were eventually returned to Earth with the well wishes of our new alien friends. 
Along the way, our galaxy-hopping group created their own constellations, built and painted welcome signs, created space slime with Blue Studios, and much more. They even time-traveled to the prehistoric era to make a dino-themed landscape with professional 3D modeler Alex Wright of Wright Studios. We also enjoyed learning about science through multiple fun experiments with the Shenandoah Valley Children's Discovery Museum. 
BRASS Camp used a centralized website (brasscamp.org) to keep families up-to-date and connected. Thanks to our perennial funding partners at the Gwen Laulhere Foundation and our creative and dedicated volunteers, BRASS Camp was an unqualified "mission accomplished."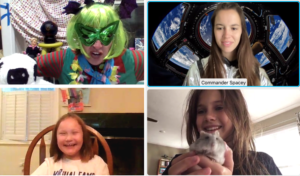 Camp Fantastic came wrapped in the mystery of "Where in the World is Fannie Flamingo?" Fannie, our pink-feathered camp mascot, was a no-show on camp's opening night because she missed the memo that camp was virtual this year. As a result, she spent the August week crossing the U.S. and the globe trying to find us. Campers were updated daily on her travels and she arrived at virtual camp just in time for our big finale glow party, where she shook her tail feathers along with the rest of us. 
NBC4 meteorologist Chuck Bell and celebrity party planner David Tutera made return visits to talk "wicked weather" and design a frilly flamingo centerpiece. Alex Wright also rejoined us to help us create intricately-detailed volcanoes (complete with erupting lava) and Dr. Francis Collins (director of the National Institutes of Health) and his family entertained us at the talent show with their lighthearted ode to "Masks." 

Blue Studios led a session on homemade "bath bombs" and Clark Construction joined us for a hands-on and very popular "DIY Demolition" session. Capital One volunteers doubled their camp impact this year by joining both camps to lead trivia, scavenger hunts, and other games during the evening. They also led a Fannie Flamingo Mystery at Camp Fantastic.  
Our 12-and-over campers enjoyed exploring a videogame version of our Camp Fantastic home at the Northern VA 4-H Center. They gathered several times in the evenings to play games and chat together. 
This year's virtual setting again allowed campers to join us from their clinic or hospital. We even teamed up with Tracy's Kids, a Washington/Baltimore art therapy non-profit, to do a collaborative art project (see 
some of the masterpieces at right).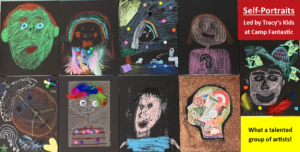 Finally, we sent camp supply boxes to several of our hospital partners and shared extra kits for some of the individual sessions to help keep the camp fun going into the fall. 
Stay tuned for more virtual fun through year-end – and hopefully a return to in-person adventures in 2022!