Chilling and Quilling to Beat the Winter Blahs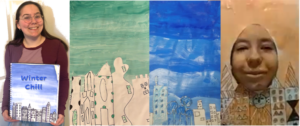 Special Love volunteers and former campers Serena Wade (above left) and Olivia Adams (above right) hosted "Winter Chill," a night of painting and socializing in late January for Special Love's young adults.  Participants painted cityscapes, no two were alike, and while painting got caught-up on how everyone was doing and what is new in their lives. Each design was wonderfully creative, including Olivia's very personalized project, painting her face to be part of the cityscape!
Meanwhile, almost 50 families (94 people) signed up for Valentine's Paper Quilling with Jackson Graney on February 12th. Jackson led the session on this fun new art, and helped the families create their own beautiful creations like the ones below.  One participant did her artwork right from her hospital room!
When the art project was complete, Jackson led the families in a fun Valentine's Day themed game of Kahoot, which is a fun and colorful trivia game. Our Kahoot champions were Maria, Lindsay, and Kate!
As with all our virtual programs, supplies for both projects were mailed to registrants ahead of time and recordings of the session were made available afterward. For information on upcoming fun, visit specialove.org.